The Royal Library of Alexandria: The Largest Collection of Recorded Information in the Ancient World
Circa 300 BCE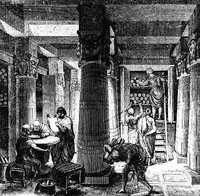 The Royal Library of Alexandria, associated with the Musaeum or Mouseion at Alexandria (Μουσεῖον τῆς Ἀλεξανδρείας), was founded under the reign of Ptolemy I Soter or Ptolemy II.
Though it was known as the largest library in the ancient world, the number of papyrus rolls preserved at the library at Alexandria is unknown. It has been speculated that at its peak the Alexandrian library may have preserved 400,000 to 700,000 papyrus rolls— the largest collection of recorded information in the ancient world. A typical papyrus roll probably contained a text about the length of one book of Homer.
Traditionally the Alexandrian Library is thought to have been based upon the library of Aristotle. By tradition it is also believed, without concrete evidence, that the much of the collection of rolls was acquired by order of Ptolemy III, who supposedly required all visitors to Alexandria to surrender rolls in their possession. These writings were then copied by official scribes, the originals were put into the Library, and the copies were delivered to the previous owners.
The Alexandrian Library was associated with a school and a museum. Scholars at Alexandria were responsible for the editing and standardization for many earlier Greek texts. One of the best-known of these editors was Aristophanes of Byzantium, a director of the library, whose work on the text of the Iliad may be preserved in the Venetus A manuscript, but who was also known for editing authors such as Pindar and Hesiod.
Though it is known that portions of the Alexandrian Library survived for several centuries, the various accounts of the library's eventual destruction are contradictory. The Wikipedia article on the Library of Alexandria outlines four possible scenarios for its destruction:
The article concludes that "although the actual circumstances and timing of the physical destruction of the Library remain uncertain, it is however clear that by the eighth century A.D., the Library was no longer a significant institution and had ceased to function in any important capacity."
♦ Another factor in the eventual destruction of the contents of the Alexandrian Library might have been the decay of the papyrus rolls as a result of the climate. Most of the papyrus rolls and fragments that survived after the Alexandrian Library did so in the dry sands of the Egyptian desert. Papyrus rolls do not keep well either in dampness or in salty sea air, to which they were likely exposed in the library located in the port of Alexandria. Thus, independently of the selected library destruction scenario, because of decay of the storage medium, or as a result of fires or other natural catastrophes, or neglect, it is probable that significant portions of the information in the Alexandrian library were lost before the library was physically destroyed.
View Map + Bookmark Entry