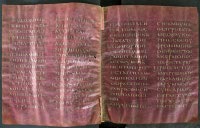 Codex Petropolitanus Purpureus, a 6th century Greek New Testament codex gospel book, with very many lacunae, originated in the Imperial Scriptorum of Constantinople and was dismembered by crusaders in the 12th century. The manuscript text is in two columns, 16 lines, in large majuscules (capital letters), measuring 32 x 27 cm. The lettering is in silver ink on vellum dyed purple, with gold ink for nomina sacra.
"The text is of the Byzantine text-type in a very early stage, but in some parts Caesarean readings. The 231 extant folios of the manuscript are kept in different libraries: 182 leaves in Saint Petersburg, Russia, 33 leaves on the Isle of Patmos, Greece, the rest in Rome (6), London (4 folios), Vienna (2), New York (1), and Athens (1), and Lerma (1), Greece."
"In 1896 Nicholas II of Russia commissioned Fyodor Uspensky's Russian Archaeological Institute to buy the greater part of it for the Imperial Public Library in St. Petersburg" (quotations from the Wikipedia article on Codex Petropolitanus, accessed 11-26-2008).