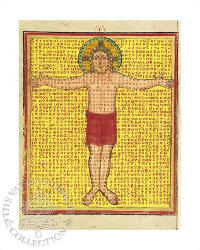 Frankish Benedictine monk, Hrabanus Maurus, wrote De laudibus sanctae crucis, a collection of 28 encrypted religious poems in praise of the holy cross. Arranged in the carmina figurata style of word pictures, in which shapes appropriate to the textual context are created by the outlines of letters, phrases or verses of poetry, these became much-admired and often copied.
Images from one of the most outstanding illuminated manuscripts of this work, preserved in the Vatican Library, are reproduced on http://www.almaleh.com/raban-e.htm (accessed 12-25-2008).
Bischoff, Latin Paleography: Antiquity and Middle Ages (1990) 210.