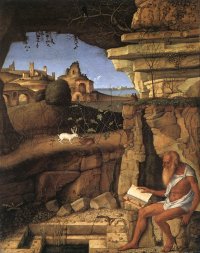 In Bethehem in 392 St. Jerome composed De viris illustribus, the title and arrangement of which he borrowed from Suetonius. De viris illustribus is considered the first biographical work to stress bibliography.
De viris illustribus "contains short biographical and literary notes on 135 Christian authors, from Saint Peter down to Jerome himself. For the first seventy-eight authors Eusebius (Historia ecclesiastica) is the main source; in the second section, beginning with Arnobius and Lactantius, he includes a good deal of independent information, especially as to western writers" (Wikipedia article on Jerome, accessed 01-04-2008).
"It is a simple enumeration of titles under each author, in no particular order; sometimes the number of 'books' (chapters) is stated" (Breslauer & Folter, Bibliography: Its History and Development [1984] No. 3).
De viris illustribus was first published in print by Günther Zainer of Augsburg in an undated edition thought to have been issued before 1473: ISTC No. ih00192000