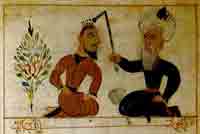 Sabuncuoglu Serafeddin.
(View Larger)
(View Larger)
At the age of 80 Ottoman surgeon and physician Şerafeddin Sabuncuoğlu (Ottoman Turkish:شرف الدّین صابونجی اوغلی) published in manuscript Cerrahiyyetu'l-Haniyye (Imperial Surgery), an illustrated surgical atlas, the first medical textbook written in Turkish, probably the first atlas of pediatric surgery, and the first surgical atlas to show women surgeons. The atlas covers 191 topics in three chapters.
Three copies survived, all different, and all incomplete. One is preserved in Istanbul's Fatih Millet Library, another at the Capa Medical History Department of Istanbul University, and a third in the Bibliothèque nationale de France.