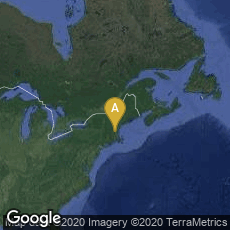 A: Lowell, Massachusetts, United States
The "Patriot and Advertiser" of Lowell, Massachusetts Prints a Poster on a "Ruggles Mammoth Engine"
In December 2020 I acquired a poster advertising an estate sale in Littleton, Massachusetts on October 11, 1850. My reason for adding this to my collection was strictly that the poster indicated that it was "Printed upon 'Ruggles' Mammoth Engine," at the Patriot and Advertiser Office, 48 Central Street, Lowell, [Massachusetts]. Printing this poster probably did not stretch the capabilities of the press since the poster is only 18 x 12 inches. Ephemera of this kind are often the only examples of the work of various historic presses since most often printers did not name the presses they used for most work.

Ruggles' Mammoth Engine appears to have been a large version of the job presses that Stephen P. Ruggles invented and manufactured in Boston under the name "Ruggles Engine" or "Job Engine Press. Ruggles Engines were manufactured mainly between 1840 and around 1860.
Timeline Themes